This paper proposes Binder, an in-context learning based framework that can decompose a natural language question into sub-questions embedded to a symbolic programing language. Binder performs comparably well or even better than SOTA on many QA tasks using only a few annotated examples.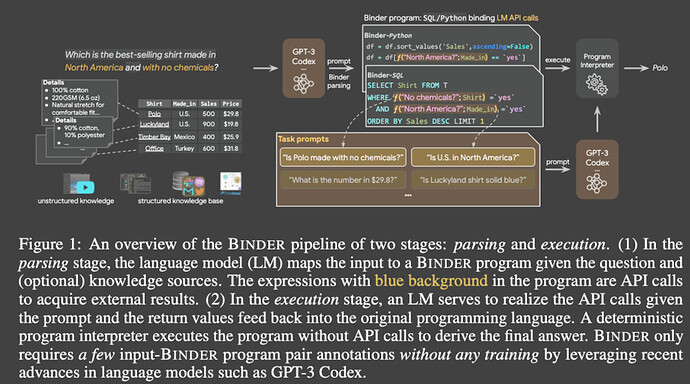 Comments
Exciting, this is perhaps the first in-context learning paper I read and I learnt a lot from it.
What if I have many examples and I want to make good use of all of them instead of just a few? In-context learning won't consume so many examples right?
Rating
5: Transformative: This paper is likely to change our field. It should be considered for a best paper award.
4.5: Exciting: It changed my thinking on this topic. I would fight for it to be accepted.
4: Strong: I learned a lot from it. I would like to see it accepted.
3.5: Leaning positive: It can be accepted more or less in its current form. However, the work it describes is not particularly exciting and/or inspiring, so it will not be a big loss if people don't see it in this conference.
3: Ambivalent: It has merits (e.g., it reports state-of-the-art results, the idea is nice), but there are key weaknesses (e.g., I didn't learn much from it, evaluation is not convincing, it describes incremental work). I believe it can significantly benefit from another round of revision, but I won't object to accepting it if my co-reviewers are willing to champion it.
2.5: Leaning negative: I am leaning towards rejection, but I can be persuaded if my co-reviewers think otherwise.
2: Mediocre: I would rather not see it in the conference.
1.5: Weak: I am pretty confident that it should be rejected.
1: Poor: I would fight to have it rejected.